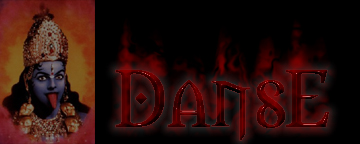 You are the music while the music lasts ~ T.S Eliot

A nowhere near conclusive list of some of my favourites.
Alien Sex Fiend

"My cigarette burns yellow, then it burns blue, I'm heading due south was it blanks we fired at you?"
from Breakdown and Cry
Tori Amos

"We danced in graveyards with vampyres 'til dawn, we laughed in the faces of kings, never afraid to burn, and I hate disintegration, watching us wither, black winged roses that safely change their colour"
from Little Earthquakes
Adam Ant

"I'm the dandy highwayman who you're too scared to mention I spend my cash on looking flash and grabbing your attention The devil take your stereo and your record collection! The way you look you'll qualify for next year's old age pension!"
from Stand and Deliver!
Apoptygma Berzerk

"Chew the pill that tastes like hell, but gives you strength Embrace the drug that makes you mad, cause still it turns you into Something else Feel the need for love grows stronger! Swap your mind for a mirror-search, and shake until the break of day."
from Paranoia
Assemblage 23

"Every time I close my eyes, the noise inside my amplifies, I can't escape, I relive every moment of the day. Every misstep I have made, finds a way it can invade my every thought, and this is why I find myself awake"
from Awake
Bauhaus

"You're a dead ringer for Madame Butterfly. Snappy little fingers stitch my thigh. You're so necromantic venomous and vain. Mixing molotov cocktails in the subterrain."
from Dive
David Bowie

"Ziggy really sang, screwed up eyes and screwed down hairdo. Like some cat from Japan, he could lick 'em by smiling. He could leave 'em to hang. Came on so loaded man, well hung and snow white tan. "
from Ziggy Stardust
Sarah Brightman

"This love This love is a strange love A faded kind of day love This love This love I think I'm gonna fall again And even when you held my hand It didn't mean a thing This love."
from This Love
Kate Bush

"When I was a child running in the night afraid of what might be, hiding in the dark hiding in the street and of what was following me. Now hounds of love are hunting, I've always been a coward, and I don't know what's good for me."
from Hounds of Love
Nick Cave

"We've come to bring you home Haven't we, Cassiel? To cast aside your loss and all your sadness And shuffle off that mortal coil and mortal madness For we're here to pick you up and bring you home Aren't we, Cassiel?"
from Cassiel's Song
Chameleons

"But most of you are much too ill Way beyond a surgeon's skill In bondage to a dollar bill What more can you buy, buy, buy? Oh, when you think on it, When you think on it we're all souls in isolation I'm alive in here."
from Soul in Isolation
Chris and Cosey

"Feel the senses, feel the senses, set your senses free. Synaesthasia. Synaesthasia."
from Synaesthesia
Coil

"and the rapids of my heart will tear your ship of love apart. And we'll end up wrecked, we'll end up at the start, of the Anal Staircase."
from the Anal Staircase
John Coltrane

Listen to Blue Train. Worship accordingly. Buy everything you can that Coltrane has.
Covenant

"Lie down in the park and watch the satellites hear the children sing just a breath away dance in the heavy air along the interstate black lung full of fumes choke on memories"
from Like Tears in Rain
Cranes

"Do you know you make dream too much make me dream to much? Do you know you make me scream too much, just silently?"
from Slide
The Cult

"Like a kiss from the lips of Ra that burns on. The pleasure getting wilder, circling ever higher, a servant of desire. I'm on fire."
From The Phoenix
The Cure

"All the faces all the voices blur. Change to one face change to one voice. Prepare yourself for bed. The light seems bright and glares on white walls. All the sounds of Charlotte sometimes. Into the night with Charlotte sometimes"
from Charlotte Sometimes
Danielle Dax

"I'm so fed up, for me no let up, a fizzing human bomb! Standing at the edge of the precipice, eyes pinned open, half gone. Sore words of the impotent man 'I love you 'til you put me out'!"
from Fizzing Human Bomb
Delerium

"Something fearless in your eyes something careless about your smile something fragile when you hold your breath and when you move you move right through me. Fingertips so gentle on my skin, I'm underwater, I feel the flood begin. Fingertips so gently on my skin, you're taking over and over again."
From Underwater
The Doors

"There's a killer on the road His brain is squirmin' like a toad Take a long holiday Let your children play If ya give this man a ride Sweet memory will die Killer on the road, yeah "
from Riders on the Storm
Fad Gadget

"Exaggerate the scar tissues, wounds that never heal. Takes hours of preparation to get that wasted look. Faded, collapsing new people, watch them, collapsing"
from Collapsing New People
Fields of the Nephilim

"Let us gather hallucinations from our private minds. Let us witness the reincarnation of the sun. Zi dingir anna kanpa Zi dingir kia kanpa. Pray for Leviathan, leviathan. I hear them call."
From Psychonaut Lib 111
FronT 242

"Brain wants to rule the heart. Heart wants to tie the hands, Unseat the assassin in me. So you cry, not to give it away. So you lie"
from Religion
Gridlock

These guys are more about music, and less about audible words. Just get their CDs. NOW!
Nina Hagen

"So bad, like diet soda , I'm counting 37 wars, user friendly. we lost the singer of the Doors, the U.F.O. conspiracy, starvation and depressy, Hiroshima Tomsk Tschernobyl It's never gonna heal. I can be so good like a Goddess plus, I'm modest. I, I have no fear. I will go all the way. I can show you how to pray, because the world is so bad."
From So Bad
Ofra Haza

"We've turned the page, and the summer's gone. Turning to fall, memories paint the pictures like dreams. I hear you call. Was it only a dream when you made love to me and you filled my soul, made me whole, and watched me cry, my aching heart."
From My Aching Heart
Billie Holiday

"Sunday is gloomy, my hours are slumberless. Dearest the shadows I live with are numberless. Little white flowers will never awaken you. Not where the black coaches sorrow has taken you. Angels have no thoughts of ever returning you. Wouldn't they be angry If I thought of joining you? Gloomy Sunday"
from Gloomy Sunday
Icon of Coil

"In motion reaction of action is slow still flesh of mine is flesh of yours too much to lose living in your shell no face no identity. I hate I love I fear I breath I live my life love to be free I hate I love I fear my blood is red like yours silver chrome eyes a target will rise I'm forced to condemn it always uncompleted"
from Repeat It
Joy Division

"In the shadowplay, acting out your own death - knowing no more. As the assassins all grouped in four lines, dancing on the floor. And with cold steel, odour on their bodies, made a move to connect. I could only stare in disbelief as the crowds all left"
from Shadowplay
Juno Reactor

"I hate robbing banks!"
from Pistolero
Massive Attack

"Love, love is a verb. Love is a doing word, feather's on my breath. Gentle impulsion, shakes me makes me lighter feathers on my breath. teardrop on the fire feathers on my breath Nine night of matter Black flowers blossom feather's on my breath"
from Teardrop
Loreena McKennitt

"Bonfires dot the rolling hillsides, figures dance around and around to drums that pulse out echoes of darkness, moving to the pagan sound. Somewhere in a hidden memory images float before my eyes of fragrant nights of straw and of bonfires, dancing 'til the next sunrise."
From All Souls Night
Sarah McLachlan

"Wind in time, rapes the flower trembling on the vine. Nothing yields to shelter it from above. They say temptation will destroy our love, the never ending hunger, but I fear I have nothing to give, I have so much to lose"
from Fear
The Mission

"She believes in angels she believes in the will of the gods and she's dancing amongst the magic dust she believes in the midnight trance she believes in 'love is the law' And she's dancing amongst the magic dust."
From Severina
New Model Army

"We follow the taillights out of the city moving in a river of red, as the colours fade away from the dusky sunset we roll for the darkness ahead. We are old, we are young we are in this together, vagabonds and children, prisoners forever. With pulses a-raging and eyes full of wonder, kicking out behind us again."
From Vagabonds
STevie Nicks

"Rock on, gold dust woman take your silver spoon, and dig your grave. Heartless challenge, pick your path and I'll pray wake up in the morning see your sunrise, loves to go down lousy lovers pick their prey, but they never cry out loud. "
From Gold Dust Woman
Poesie Noire

"She became a total stranger to herself, mourning for the morning she ate out of their hands. Overwhelmed by their control, their wealth, she was standing there naked, conducting the band."
From Oblivion
Portishead

"Please could you stay awhile to share my grief? For its such a lovely day to have to always feel this way, and the time that I will suffer less is when I never have to wake."
From Wandering Star
Primal Scream

"Here she comes again with vodka in her veins. Been playing with a spike, she couldn't get it right, splendour in silver dress velocity possessed. The world was hers again, it fell apart again."
From Velocity Girl
Project Pitchfork

"Tick tock tick tock madness comes tonight. What's reality compared to me? I rest on the bed and I'm sure I slowly get mad. I'm in a state of mind which makes me blind for the fact that I'm a man, I'm here to stay forever but not today."
From Timekiller
Psychedelic Furs

"There's an army on the dance floor, it's a fashion with a gun my love, in a room without a door a kiss is not enough in love my way, it's a new road, i follow where my mind goes."
From Love My Way
Radiohead

"I jumped in the river, what did I see? Black-eyed angels swam with me A moon full of stars and astral cars All the things I used to see All my lovers were there with me All my past and futures And we all went to heaven in a little row boat"
from Pyramid Song
Nina Simone

"Just call me angel of the morning. Slowly slowly turn away from me. Well maybe the sun's light will be dim but it won't matter anyhow if morning echo says we've sinned. Well, it was what I wanted now. And if we're the victims of the night I promise you I won't be blinded by light."
From Angel of the Morning
Siouxsie & the Banshees

"From the cradle bars comes a beckoning voice it sends you spinning you have no choice. You hear laughter cracking through the walls it sends you spinning you have no choice. Following the footsteps of a rag doll dance we are entranced, Spellbound!"
from Spellbound
The Sisters of Mercy

"And the shadows smile, lips dark and wild. The shadows smile, and kiss the sky behind the door, the poison door the puppets dance on a burning floor like dying flames behind the door, shoot me down again."
from the Poison Door
Skinny Puppy

"Passing ghosts. Here's the host. Talk of nothing matters most. Urban fracture. What's the matter ? Only I am lost."
from Icebreaker
The Smiths

"Sing me to sleep. Sing me to sleep, and then leave me alone. Don't try to wake me in the morning 'cause I will be gone. Don't feel bad for me, I want you to know, deep in the cell of my heart I will feel so glad to go."
from Asleep
Space Tribe

"You can be Shiva!"
This Mortal Coil

"Long afloat on ship less oceans I did all my best to smile 'til your singing eyes and fingers drew me loving to your isle and you sang, 'Sail to me, sail to me, let me enfold you, here I am, here I am waiting to hold you' Did I dream you dreamed about me?"
from Song to the Siren
Underworld

"you got a velvet mouth you're so succulent and beautiful shimmering and dirty wonderful and hot times on your telephone line and god and everything on your telephone and in walk an angel and look at me your mom squatting pissed in a tube hole at tottenham court road i just come out of the ship talking to the most blonde i ever met shouting lager lager lager lager mega mega white thing!"
from Born Slippy
VNV Nation

"And what will happen? Will I dream? I am too scared to close my eyes. For a second please hold me. None can change in me these things that I believe. But I don't know what happens now. I am too scared to close my eyes."
from Legion